A Place to

GROW

in

SPIRIT

&

TRUTH
Richland is a place where there is freedom to worship and experience the Lord. We have a place for every age group! Visit our newly designed Nursery, Kids Worship, Youth, Adult, Women and Men's Ministries!
​
We hope you're able to join us soon!
​
​
Service Times Sunday:
8:30 a.m. Adult Bible Studies
9:00 a.m. Prayer Meeting
9:30 a.m. Breakfast
10:00 a.m. Worship Service
Kids Worship! and Nursery
Some Special Measures Are Still in Place as We Return to our Sanctuary for our Worship Service!
Our Kid's Worship and Nursery are Back!
​
Some special measures are still in place in compliance with our Governor's most recent executive orders. Please follow CDC guidelines of social distancing. Families may sit together, otherwise, please sit 6 feet apart (keeping mind this also pertains to those in front of you and behind you—do not sit in front of or behind people in the next pew. The colored dots on the back of the pews mark 3 feet distance. Please stagger seating and spread out throughout the sanctuary. Please use the hand sanitizers as you enter/exit the Sanctuary. Offering plates will not be passed, so you are encouraged to drop your offering into one of the plates up front or near the doors. You may pick up a paper bulletin for yourself if you would like one (they will not be handed out by the greeters/ushers). We understand there are different "comfort levels" regarding social distancing and wearing masks as we come back together. Please honor one another and each one's decision and comfort level.
If you are uncomfortable or unable to attend we will continue live streaming our Worship Service. Live streaming is now a permanent feature of how we are reaching beyond the walls of the church building. You can watch us "live" on Facebook (or watch it later). In addition to this, we will be posting the video of the worship service on the church's website, and we will be live streaming to YouTube soon also. Please feel free to share on your social media.
​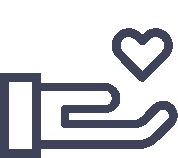 "Whoever is generous to the poor lends to the lord, and he will repay him for his deed."
You will be re-directed to our secure giving site powered by tithe.ly online giving
Subscripe to our weekly newsletter