A Place to

GROW

in

SPIRIT

&

TRUTH
Richland is a place where there is freedom to worship and experience the Lord. We have a place for every age group! Visit our newly designed Nursery, Kids Worship, Youth, Adult, Women and Men's Ministries!
​
We hope you're able to join us soon!
​
​
Service Times Sunday:
8:30 a.m. Adult Bible Studies
9:00 a.m. Prayer Meeting
9:30 a.m. Breakfast
10:00 a.m. Worship Service
Kids Worship! and Nursery
Important Changes to Richland's Schedule Due to COVID-19

In response to COVID-19, Richland, along with churches all over America, is making some significant adjustments for a time in order to cooperate with the President's efforts to safeguard the health of the nation in recognition of the serious threat this pandemic poses. Right now, we are in the midst of the White House's "15 DAYS TO SLOW THE SPREAD" initiative. All church attenders should have already received an email from Pastor Bethany concerning this, but here is what we are doing: We cancelled all activities at the church building, including our "normal" Morning Worship Service, but our our Sanctuary will remain open on Sundays from 10:00-11:00 a.m. so God's people can gather to pray. All Life Groups and small groups are urged to seriously consider the President's requested actions in deciding whether they will suspend meeting for a time. The church offices will remain open on our normal weekly schedule. We are continuing to monitor the situation and evaluating our response, and we hope to provide more information to everyone soon regarding ways we can stay connected with each other online or through social media platforms when it is not possible or prudent to meet. Please watch your email inbox for updates. The updates by email will be the most detailed, but we will also be putting out information on other social media platforms (Facebook, etc.).
Subscripe to our weekly newsletter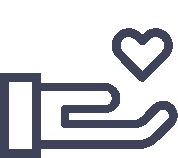 "Whoever is generous to the poor lends to the lord, and he will repay him for his deed."
You will be re-directed to our secure giving site powered by tithe.ly online giving